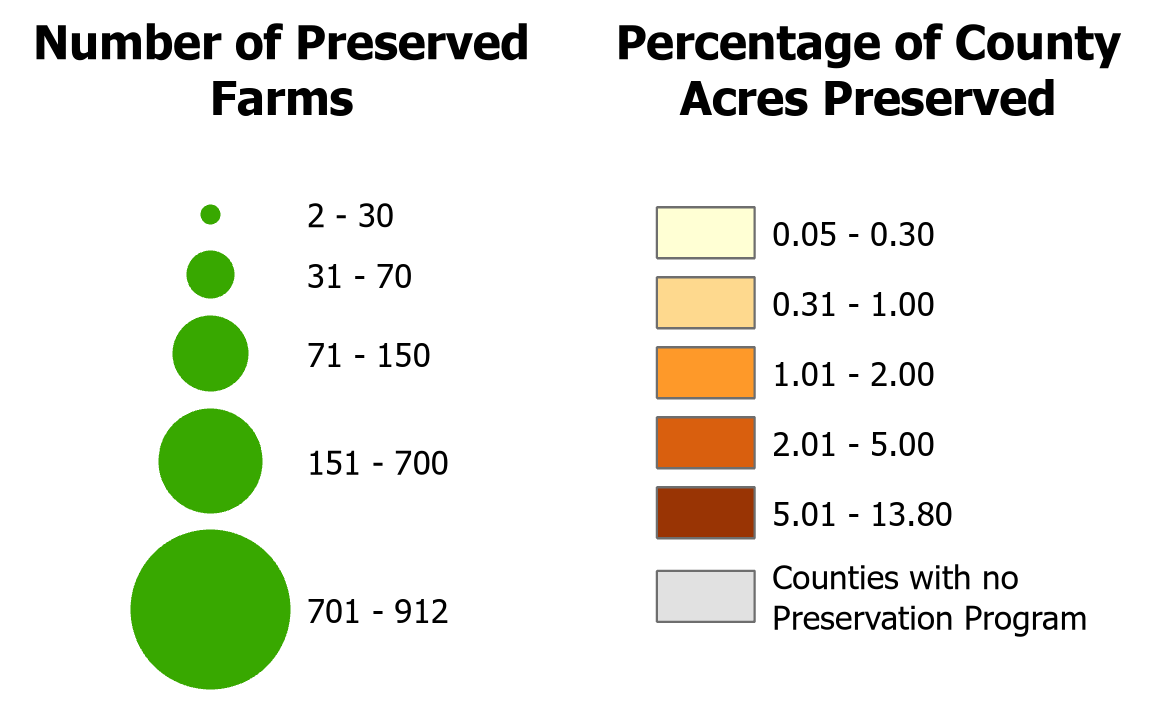 Data Explanations:
Why is Farmland Preservation So Important in Pennsylvania?
There are several ways to "preserve" farmland, but the data on this page reflect Pennsylvania's "conservation easement" program. Under this program, the state and counties pay farm owners to set aside the right to develop their farm. Even if the farm is sold, the new owner cannot develop the land or use it for anything other than farming. Similar results can come from other funding sources, which increase farmland protection.
According to the Pennsylvania Department of Agriculture's Bureau of Farmland Preservation, Pennsylvania leads the nation in the number of farms and acres permanently preserved for agricultural production. The program guarantees a future food supply and contributes to a healthier economy. It also assures a way of life that Pennsylvanians cherish will continue for generations to come. The program is a partnership between all levels of government and non-profit organizations - with a common goal of saving prime farmland.
Comparative Data:
PA FARM STATISTICS
2011
2021
Total Number of Farms in PA:
63,200
52,700
Number of Preserved Farms in PA:
3,897 farms:
< 7% of total PA farms
5,979 farms:
> 11% of total PA farms
Total Area of Farmland in PA:
7,750,000 acres
7,300,000 acres
Area of Preserved Farmland in PA:
425,376 acres:
< 6% of total PA farmland
611,620 acres:
> 8% of total PA farmland
Average Farm Area:
123 acres
139 acres
Average Preserved Farm Area:
109 acres
101 acres
Total Dollars Spent to Purchase Farmland for Preservation:
$1,043,221,948
$1,603,393,653
Average Price Paid to Purchase Farmland for Preservation:
$2,452 per acre
$2,645 per acre
($3,100 in 2021)
County with Largest Total Number of Preserved Farms:
Lancaster County:
619 farms
Lancaster County:
912 farms
County with Largest Total Acreage in Preserved Farms:
Berks County:
60,851 acres
Berks County:
76,475 acres
Counties without Farmland Preservation Programs:
Cameron, Clarion, Clearfield, Jefferson, Philadelphia, Elk, Forest, Venango, McKean, Pike
Cameron, Clarion, Clearfield, Philadelphia, Elk, Forest, Venango, McKean
"Preserved farmland" statistics refer only to

state-funded

farmland preservation efforts; not those preserved by private and/or non-profit organizations.
| US FARM STATISTICS | 2007 | 2017 |
| --- | --- | --- |
| Total Number of Farms in the US: | 2,204,792 | 2,042,220 |
| PA Rank: Number of Farms per state: | 13th | 14th |
| Total Area of US Farmland: | 922,095,840 acres | 900,217,576 acres |
| Average Farm Size: | 418 acres | 441 acres |
| Median Farm Size: | 65 acres | 75 acres |